Fethiye Villa Rental
Mesmerizing rock tombs, sparkling azure waters with white pebbled beaches and splendid hospitality greet your senses in the charming city of Fethiye. Located in the sunny Aegean coast, Fethiye is known as the Turquoise Riviera of Turkey with spectacular mountain views, a vibrant food scene, and all scintillating outdoor activities you can imagine!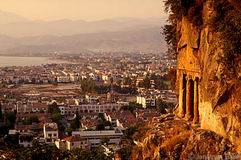 Fethiye is located in South West Mediterranean Turkey, connected to all other cities by three highways and reached very easily. Dalaman International Airport is as close as 54 km. to the town centre. During the tourist season, one can find many flights from major European cities to Fethiye besides the domestic flights throughout the year by Turkish Airlines. Additionally Antalya Airport, three hours drive to Fethiye, is another departure point.

Fethiye seaport with its sheltered natural structure is an important stop for yachtsmen. A new modern marina project will be realised soon for a large number of yachts with all facilities on the other end at the bay.

The whole region excluding Fethiye and Esen lowlands is covered with high mountains forming the southwestern spurs of the Taurus Range. These mountains exceeding 2000 metres extend the coastline. On a sunny winter day, it is a real pleasure to view the pine forests and snow-capped peaks with the clear blue sky. Besides the refreshing woody slopes with thyme, sage, laurel and pine trees the exceptional incense forest is another peculiarity of the Fethiye region. Covering a 100-hectare area the incense forest is an ideal campsite and a picnic area. Balsan obtained from incense trees has pharmaceutical and cosmetic value and it is also used to fumigate mosques and churches.

Mediterranean climate with hot, dry summers and warm, wet winters prevails in the region temperatures are approximately 30 C in summers and usually not less than 12 C in winters. Seawater temperature is hardly below 17 C all year round.