Fethiye Villa Rental
Discover the Beauty of Fethiye
Mesmerizing rock tombs, sparkling azure waters with white pebbled beaches and splendid hospitality greet your senses in the charming city of Fethiye. Located in the sunny Aegean coast, Fethiye is known as the Turquoise Riviera of Turkey with spectacular mountain views, a vibrant food scene, and all scintillating outdoor activities you can imagine!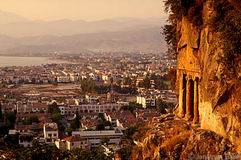 Fethiye is located in South West Mediterranean Turkey, connected to all other cities by three highways and reached very easily. Dalaman International Airport is as close as 54 km. to the town centre. During the tourist season, one can find many flights from major European cities to Fethiye besides the domestic flights throughout the year by Turkish Airlines. Additionally Antalya Airport, three hours drive to Fethiye, is another departure point.


Fethiye is a stunning destination located in the Aegean region of Turkey. With its turquoise waters, sandy beaches, and breathtaking scenery, it's no wonder that Fethiye is one of the most popular destinations for travelers from around the world.
Whether you're looking to relax on the beach, explore the local culture, or go on exciting adventures, Fethiye has something for everyone. Here are some of the top attractions and activities to experience during your stay:
Oludeniz Beach: Known for its crystal clear waters and picturesque lagoon, Oludeniz Beach is a must-visit for anyone visiting Fethiye. Whether you're looking to sunbathe, swim, or go paragliding, you won't be disappointed.

Blue Cave: Located on the island of Gemiler, the Blue Cave is a unique natural wonder that you can visit by boat. The water inside the cave is an electric blue color, making it a truly spectacular sight.

Fethiye Museum: If you're interested in history and culture, be sure to visit the Fethiye Museum. It features a collection of artifacts and exhibits that tell the story of the ancient city of Telmessos, which was once located in the area.

Saklikent Canyon: For a unique adventure, visit the Saklikent Canyon, which is located about 45 minutes from Fethiye. Hike through the canyon and enjoy the scenery, or take a refreshing dip in the river.
With its stunning natural beauty, rich history, and diverse range of activities, Fethiye is the perfect destination for your next holiday. Book your villa now and experience the best of what this amazing region has to offer, Villa rental in Fethiye and its surroundings.