Oludeniz Villa Rental
A sapphire paradise with breathtaking sights of the Aegean mountains, crystal clear water and pristine sandy beaches. Famous for it's stunning Blue lagoon where you can float dreamily for hours under the warm Aegean sun or fly above paragliding!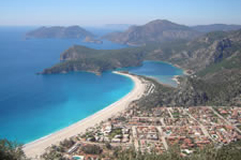 Oludeniz Lagoon and Belcekiz Beach are known as `Blue Lagoon` in the world. Colourful holiday complexes with lush gardens, campsites and hotels provide a large capacity of accommodation for tourists. `World Heritage` Babadag hugs the area with its floral richness. After half an hour driving to the summit of Babadag, you can have an opportunity to fly single or Tandem, paragliding and land softly on Belcekiz Beach. Babadag and Belcekiz is famous worldwide as a centre for paragliders. Explore Blue Lagoon(Ölüdeniz) where the calm crystal water is ideal for swimming and other water sports. Blue Lagoon is located near the famous tourist resort of Fethiye, Belcekiz Beach and is protected as one of the natural parks of Turkey.