Kayaköy Villa Rental
A paradise for hikers and those seeking an authentic connection to the past. An abandoned Greek Village with mesmerizing stonebuilt houses and churches dot the impressive mountainside. Located 8kms from Fethiye the village comes to life during the summer.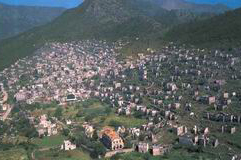 Beyond the Fethiye fortress going south, if you follow the road climbing up to the slope some 7 km. you can come to a magnificent lowland where Anatolian Greeks had lived until 1922. Greeks called the Town Levissi in the past. Kaya Village in the year 1922 during the exchange of Turks in Thrace evacuated and the new residents did not take up the existing houses. Kaya become a Ghost Town as an abandoned town after 1923.

2 churches, chapels, numerous houses, schools, library, hospital, workshops and the other structures will be renovated soon according to a project which is made by The Association of Turkish Travel Agencies and The Chamber Of Turkish Architects. After the renovation, Kaya Village will serve as the place of `Peace & Friendship Village` and will be protected forever.