Ölüdeniz
Oludeniz: The Ultimate Destination for Villa Rentals in Turkey
A sapphire paradise with breathtaking sights of the Aegean mountains, crystal clear water and pristine sandy beaches. Famous for it's stunning Blue lagoon where you can float dreamily for hours under the warm Aegean sun or fly above paragliding!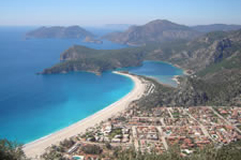 Oludeniz Lagoon and Belcekiz Beach are known as `Blue Lagoon` in the world. Colourful holiday complexes with lush gardens, campsites and hotels provide a large capacity of accommodation for tourists. `World Heritage` Babadag hugs the area with its floral richness. After half an hour driving to the summit of Babadag, you can have an opportunity to fly single or Tandem, paragliding and land softly on Belcekiz Beach. Babadag and Belcekiz is famous worldwide as a centre for paragliders. Explore Blue Lagoon(Ölüdeniz) where the calm crystal water is ideal for swimming and other water sports. Blue Lagoon is located near the famous tourist resort of Fethiye, Belcekiz Beach and is protected as one of the natural parks of Turkey.
Oludeniz, located in the southwestern region of Turkey, is a stunningly beautiful coastal town that is renowned for its pristine blue lagoon and breathtakingly scenic surroundings. This idyllic holiday destination is the perfect place to relax and unwind, and with a wide range of villa rentals available, it's easy to find the perfect accommodation for your stay.
Villa rentals in Oludeniz range from traditional Turkish-style villas to modern and luxurious villas, offering a comfortable and convenient base for exploring the area. These villas are set in stunning locations, offering breathtaking views of the surrounding mountains, the turquoise blue sea, and the lush green forests.
One of the main draws of Oludeniz is its famous Blue Lagoon, a crystal-clear bay surrounded by a picturesque coastline. This breathtaking natural wonder is a must-visit for any visitor to the area, and it's easy to see why it's one of Turkey's most popular tourist destinations. Whether you prefer to swim, sunbathe, or simply take a leisurely stroll along the shore, the Blue Lagoon has something to offer for everyone.
In addition to its stunning natural beauty, Oludeniz also offers a range of activities and attractions to keep visitors entertained. For adrenaline junkies, there's paragliding and tandem flights over the lagoon, while more relaxed activities include boat trips, horseback riding, and scenic walks. For those who enjoy shopping and dining, the town center offers a range of shops, restaurants, and cafes, serving up delicious local cuisine and providing opportunities to purchase handmade goods and souvenirs.
Another reason to choose Oludeniz for your villa rental is its close proximity to other popular tourist destinations. The historic city of Fethiye, with its charming old town and bustling harbor, is only a short drive away, while the world-famous Saklikent Gorge is just a short drive in the other direction. These destinations offer a range of activities and attractions, from historical sites and natural wonders to shopping and dining.
Oludeniz is the ultimate destination for those seeking a holiday surrounded by natural beauty and adventure. With its stunning scenery, range of activities, and convenient location, it's the perfect destination for a villa rental in Turkey. Book your stay today and discover the beauty of Oludeniz for yourself.