Göcek
Gocek: A Stunning Destination for Villa Rentals in Turkey
The exclusive yacht destination of the Turkish Turquoise Coast with an upscale marina, plenty of sun & seaside activities. Explore the nearby scenic islands, or walk through the charming boho-inspired cobbled streets with lovely restaurants and artisanal shops exuding upbeat charm.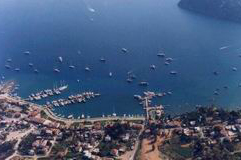 Gocek is a Harbour where a cup of coffee shared with the neighbouring boat results in the establishment of the warmest friendships. Within the Fethiye Bay, the caves and islands around Gocek offer the blue voyagers a pleasantly natural and historical sightseeing tour.
It is believed that Göcek was the city of Daidalos in the antique period. In the records of Strabo and Heredot, Daidalos is mentioned as a Lycian Port. 
If you're searching for a holiday destination that offers both natural beauty and luxury, look no further than Gocek, a charming coastal town located in the southwestern part of Turkey. With its stunning bays, crystal-clear waters, and lush green hills, Gocek is the perfect place for a relaxing and indulgent holiday.
Villa rentals in Gocek are abundant, with options ranging from traditional Turkish-style villas to modern and luxurious villas. These villas offer a comfortable and convenient base for exploring the area, as well as providing a relaxing environment for you to unwind after a day of activities.
One of the main attractions of Gocek is its stunning natural beauty. The town is surrounded by lush green hills and crystal-clear waters, providing plenty of opportunities for outdoor activities such as swimming, sunbathing, and sailing. Additionally, the bays and inlets of the nearby coastline offer a peaceful and serene environment, perfect for picnicking and exploring.
Another reason to choose Gocek for your villa rental is its close proximity to some of Turkey's most popular tourist destinations. The ancient city of Fethiye is only a short drive away, while the famous Blue Lagoon and Oludeniz Beach are also within easy reach. These destinations offer a range of activities, from paragliding and rafting to shopping and dining.
Gocek is also known for its luxury and sophistication. The town is a popular destination for yachting and sailing, and it is home to a number of upscale restaurants, bars, and cafes. Visitors can indulge in luxury shopping, spa treatments, and fine dining, or simply relax and soak up the sun on one of the town's beautiful beaches.
In terms of dining and shopping, Gocek has a range of options to suit different tastes and budgets. From local seafood restaurants to international cuisine, there's something for everyone. Local markets and shops offer the opportunity to purchase handmade goods, souvenirs, and fresh produce.
Gocek is a stunning destination for those seeking a holiday filled with natural beauty, luxury, and sophistication. With its stunning scenery, close proximity to popular tourist destinations, and range of dining and shopping options, it's the perfect destination for a villa rental in Turkey. Book your stay today and discover the beauty of Gocek for yourself.