Kayaköy
Kayakoy: A Unique Destination for Villa Rentals in Turkey
A paradise for hikers and those seeking an authentic connection to the past. An abandoned Greek Village with mesmerizing stonebuilt houses and churches dot the impressive mountainside. Located 8kms from Fethiye the village comes to life during the summer.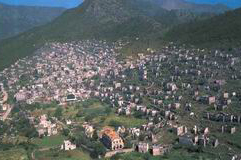 Beyond the Fethiye fortress going south, if you follow the road climbing up to the slope some 7 km. you can come to a magnificent lowland where Anatolian Greeks had lived until 1922. Greeks called the Town Levissi in the past. Kaya Village in the year 1922 during the exchange of Turks in Thrace evacuated and the new residents did not take up the existing houses. Kaya become a Ghost Town as an abandoned town after 1923.

2 churches, chapels, numerous houses, schools, library, hospital, workshops and the other structures will be renovated soon according to a project which is made by The Association of Turkish Travel Agencies and The Chamber Of Turkish Architects. After the renovation, Kaya Village will serve as the place of `Peace & Friendship Village` and will be protected forever.
If you're searching for a unique and historic holiday destination, look no further than Kayakoy, a abandoned Greek village located in the mountains of the Mugla province in Turkey. With its charming stone houses, beautiful surroundings, and rich cultural heritage, Kayakoy is the perfect place for a peaceful and memorable holiday.
Villa rentals in Kayakoy are abundant, with options ranging from traditional Turkish-style villas to modern and luxurious villas. These villas offer a comfortable and convenient base for exploring the area, as well as providing a relaxing environment for you to unwind after a day of activities.
One of the main attractions of Kayakoy is its rich cultural heritage. The village was once a thriving Greek community, but was abandoned in the early 20th century following a population exchange between Greece and Turkey. Today, the village serves as a museum and is a popular tourist destination, offering a unique glimpse into the past.
Another reason to choose Kayakoy for your villa rental is its stunning natural beauty. The village is surrounded by lush green hills and forests, offering plenty of opportunities for outdoor activities such as hiking, horseback riding, and birdwatching. Additionally, the streams and rivers that flow through the area provide a peaceful and serene environment, perfect for picnicking and swimming.
Kayakoy is also located close to some of Turkey's most popular tourist destinations. The seaside town of Fethiye is only a short drive away, while the famous Oludeniz Beach and Blue Lagoon are also within easy reach. These destinations offer a range of activities, from paragliding and rafting to shopping and dining.
In terms of dining and shopping, Kayakoy has a range of options for visitors. Local restaurants serve up delicious, authentic Turkish cuisine, while local markets and shops provide the opportunity to purchase handmade goods, souvenirs, and fresh produce.
Kayakoy is a unique and historic destination for those seeking a holiday surrounded by natural beauty and cultural heritage. With its rich history, stunning scenery, and close proximity to popular tourist destinations, it's the perfect destination for a villa rental in Turkey. Book your stay today and discover the beauty of Kayakoy for yourself.